How to Fix the Costly Misalignment Between B2B Sales and Modern Buyers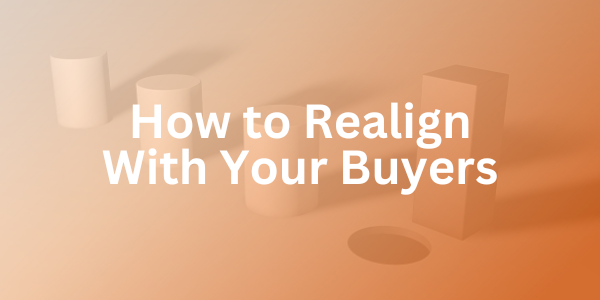 Imagine that you've been tasked with finding a software solution for your business. What would your first course of action be? Chances are, you'd turn to a Google search and explore the available options online.

Your potential buyers are no different. In today's B2B landscape, buyers are deeply immersed in the online world, evaluating your product digitally without direct involvement from your sales team. Buyers today strive to complete as much of the buying process on their own as possible.

Unfortunately, many sales teams still adhere to a traditional, linear sales process that was effective for the past two decades – back when sellers controlled the buyer's journey – that doesn't match how modern buyers buy. This misalignment between traditional sales methods and contemporary buying behaviors causes issues that result in decreased net new sales, slower revenue growth, and increased customer acquisition cost.

In this post, we will examine how traditional B2B selling has fallen out of sync with the way modern buyers make purchasing decisions, the problems it creates, and how to realign your sales motion to get back to sustainable growth.
Changes In B2B Buyers That Cause Misalignment
The profile of B2B buyers has transformed significantly over the last 5 to 10 years. With the digitally native Millennial and Gen Z generations making up the majority of B2B buyers, the landscape has shifted. These digitally-savvy buyers confidently make decisions based on information they find online. Research from Gartner shows that 82% of buyers prefer a self-service experience.

Today's buyers complete 75% of the buying process online without direct involvement with Sales, meaning sales teams can't observe, manage, or influence buyer progression. Buyers engage on their own terms, and revisit stages of the buying process over 80% of the time.

This unpredictable and individualized path to a purchasing decision shows the complexity of the modern B2B buying process.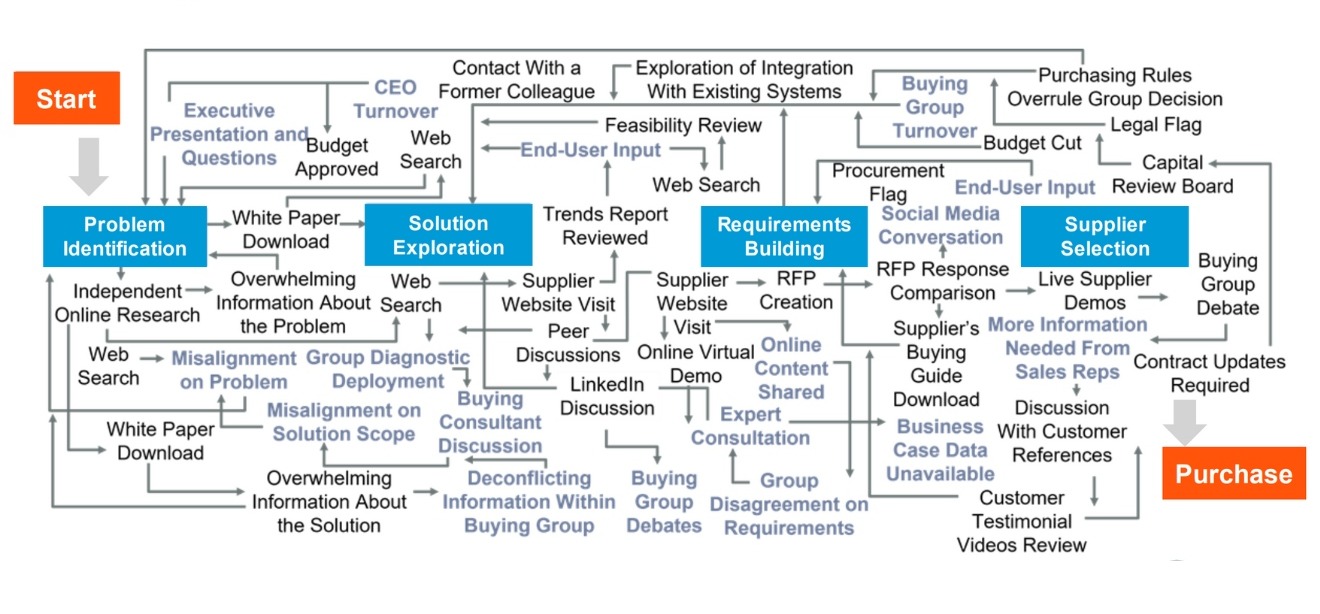 Consequences of Misalignment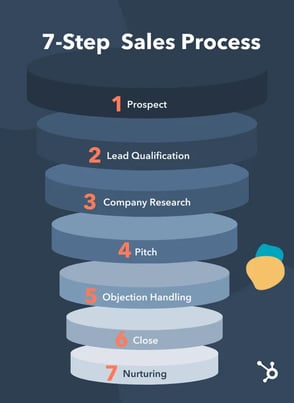 Trying to track the chaotic and unique buying behaviors into a traditional, linear sales approach (like the example shown to the right) has led to significant issues for sales teams.
Some of the common problems teams encounter today include:

1. Reduced access to buyers to build value/mitigate risk
2. Stalled deals without clear reasons.
3. Decreased productivity and missed quotas
4. Prolonged sales cycles.
5. Less accurate sales forecasts.

These issues contribute to an overall decline in new sales, slow revenue growth, and higher customer acquisition costs. However, these problems present massive opportunities for improvement achievable through a realignment with the preferences of modern buyers.
Realign With Buyers Through a Digital Experience
To address the preferences of today's buyers, businesses must offer a platform that supports buyers' independent journeys – from initial evaluation to a signed proposal – in a digital format. This digital experience should mirror consumer-like interactions, enabling buyers to engage on their own terms at any time, get instant answers, and have access to sales teams for added guidance.

By meeting buyers where they are and giving them control over their purchasing process, you enable them to:

- Thoroughly evaluate your solutions, including seeing demos, on their own time
- Access the most accurate and relevant information (personalized to their role/business)
- Collaborate with colleagues.
- Complete crucial buying jobs
- Progress smoothly through the buying cycle

Omedym, the leader in digitizing the B2B buying experience, allows its customers to provide buyers with an on-demand buyer portal that contains content and product information in video and PDF formats, making it easy for buyers to independently navigate and complete the various stages of the buying process.
Advantages of Realignment
By offering buyers a digital way to reach a purchasing decision on a platform they control, sales teams collect extremely valuable behavioral data. Examples include search queries, minute and seconds of videos viewed, topics selected, questions asked, and more. And as deals progress, more data such as chat history and proposal pages viewed become available to Sales.

Collecting these data points creates a framework of customer indicators (actions taken by the buyer) that trigger recommended sales actions with the highest likelihood of closing the deal. For example, sales reps are prompted to add more detailed content in the portal based on initial buyer behavior to guide buyers further down the process. This shortens the sales cycle while allowing your sales representatives to focus on closing deals.

In the case that live communication with buyers becomes necessary, sales reps have insights into why buyers engaged in the first place, allowing Sales to align its talking points with buyers' interests for more productive conversations.
Start 2024 in Alignment With Your Buyers
If your sales team has experienced issues mentioned above, know this: your team is not the problem. Your product is not the problem. Your reliance on an outdated sales approach, however, is. With buyers completing a substantial portion of the buying process online independently, tracking buyers using the traditional linear sales process is no longer effective.

Fortunately, you don't need to undertake a massive overhaul of your sales organization to realign with modern buyers and achieve sustainable growth. By utilizing platforms like Omedym to offer a digital, consumer-like buying process, you can expect to close more deals, improve conversion rates, and reduce your acquisition costs.

Learn more about how Omedym can help you provide this experience here.
Read what Omedym customers have to say about their experiences with the platform on G2.